TIG welding inverter TP 402 AC/DCW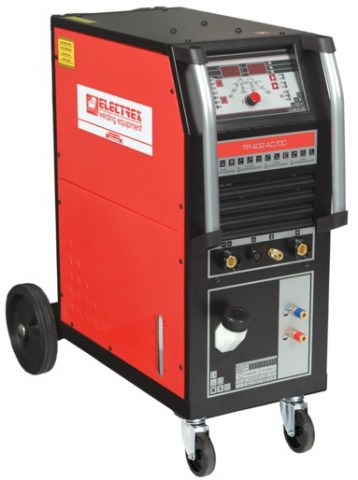 Inverter AC/DC for TIG HF welding and MMA welding.
Enables excellent results either in AC welding mode (for aluminium and light alloys) or DC welding mode (for steel, stainless steel, zinc, brass, copper).
Available TIG Pulsed mode to reduce welding piece distortion and enable thin to thick plate welding.
Balance adjustment for penetration or cleaning effect.
High frequency or contact TIG arc ignition (Liftig).
Also optimized for MMA welding of all types of electrodes.
Standard remote control, pedal, torch with poteciometer and wireless remote control with all welding parameters adjustable (soon available) as option.
Allow selection of AC waveforms (advanced square, sine and triangular wave).
- Pulsed current to prevent welding piece distortion
- Presetting and real time welding current on digital display
- Inbuilt overvoltage protection for safe connection to generators
- Overheat, overvoltage and overload protections to ensure maximum reliability
- Up slope welding current time adjustable for a smooth arc ignition
- Down slope welding current time for crater treatment
- Adjustable pre gas time to protect welding pool
- Adjustable post gas time to protect welding seam
- 2 or 4 times working modes selection
- 9 welding programs to store and repeat your welding programs

Selection of AC waveforms:
- Square wave: welding of light alloys with more penetration into thick plates.
- Sine wave: is used in most applications.
- Triangular wave: welding of thin sheets with little transference energy and thus, less penetration.
Printer-friendly version