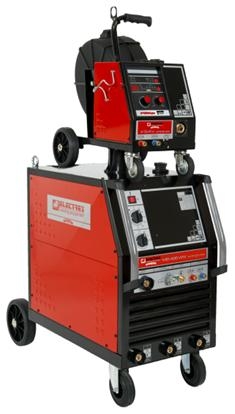 Three phased MIG/MAG welding machine, step controlled, with separated wire feeder.
All primary and secondary parameters visible on a digital display and adjustable by a single button.
Allows welding of all steel types all stainless steel, aluminium and copper alloys and fluxed core wires.
Suitable for medium and heavy metal construction, repair shops and naval shipyards.

Mecapulse
• Innovative system - Low heat continuous welding with less workpiece distortion and excellent gap bridging of thin plates.
Great reduce of wire and energy consumption.
Printer-friendly version