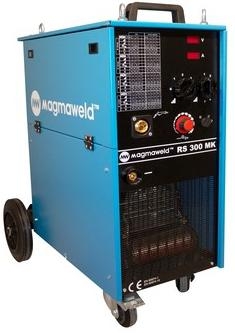 Compact Industrial MIG / MAG Welding Machine Containing In-Built Wire Feed System Suitable for Mass Production with Any Type of Metal.
• Operates on 3 Phase 380 V / 50 Hz.
• Suitable for welding steel, stainless steel and aluminum.
• Optimum welding parameters are selected and set from the chart on the front panel and monitored on digital displays. Features 2/4 trigger option for convenience of the welder for prolonged welding operations. Contains wire feed button in the torch to be used when the wire is first attached.
• Wire Back Burn, preliminary gas and final gas duration, wire Soft Start settings can be adjusted on the wire feed system cover which may be required for inert gas welding.
• The 4 spool wire feed system assures continuous welding without deforming the wires and particularly cored wires and other soft wires.
• All types of spools with a diamater of 300 mm and drum packages can be used.
• Performs welding with long mains and welding cables without loss of performance.
• Suitable for use in closed and semi-closed spaces. Protected against excessive moisture and dust and covered by IP 21 protection class.
• Provides easy movement within the workshop together with the gas bottle by its 4 wheels and the gas bottle carrying platform. Front wheel are lockable.
• The machine incorporates 220 V / 10 A receptacle for the CO2 gas heater.
• Fan cooled and protected against overheating.
Printer-friendly version