Supradur 400B diam. 5.0mm 6.1 kg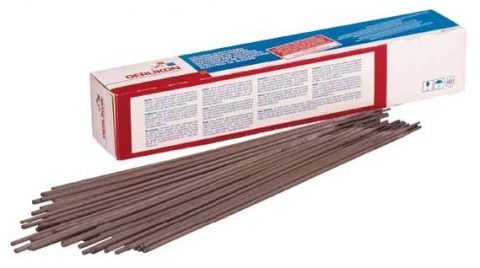 Oerlikon SUPRADUR 400B is a thick basic-coated MMA electrode for depositing highly wear resisting hard facing deposits. Used for hard facing against sliding impact, e.g. slideways, shock, e.g. cams and rolling impact, e.g. rotors and rails, The weld metal is particularly resistant to impact and very crack-resistant.
A tough buffer layer, deposited with Tenacito R or Superchromax N, is only required when the base plate is very sensitive to welding conditions. Even multi layers can be deposited without cracking and intermediate buffer layers are not required. SUPRADUR 400B can be welded in all positions, except vertically-down and the weld metal can be machined only by using sintered hard metal tools. Suitable for rails, rail crossings and switch points, wearing components such as dredger parts, bearing surfaces, striking tools, forging dies, buckstays, wheel flanges, slide surfaces subject to heavy wear, reconditioning of dies and punches.
Printer-friendly version