Vertical acting toggle clamp 6800-2, 90027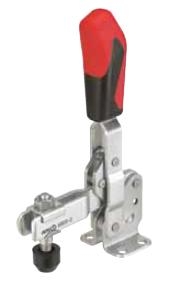 Vertical acting toggle clamp
with open clamping arm and horizontal base.
Galvanized and passivated. Rivets made of stainless steel, which, for sizes 2 to 6, run in hardened bushings. Bearings are pre-lubricated.
Ergonomic, oil-resistant handle with large grip surface and soft components. Safety clamping piece with finger protection, lock washer for the thrust bolt at the end of the clamping arm.
Printer-friendly version